Posted by Polina Perri on 1st Nov 2022
We are pleased to demonstrate you our opulent novelty - a beautiful, timeless, hardcover folio wedding invitation suite. This exquisite invitation kit pairs luxurious design with craftsmanship and elegant manner of presentation. The concept of a folio wedding invitation suite is based on 3 key ideas/notions:
- unique design solution is kept consistent throughout all pieces of the suite;
- each piece of the suite is elaborated to address a particular aspect;
- a wedding invitation suite is all-in-one wedding stationery unit.
Let's have a look at our Giselle folio suite. The main components of our wedding invitation suite are:
hardcover folio with a pocket;
foil pressed invitation - made of paper or acrylic;
response card with the envelope;
extra information insert;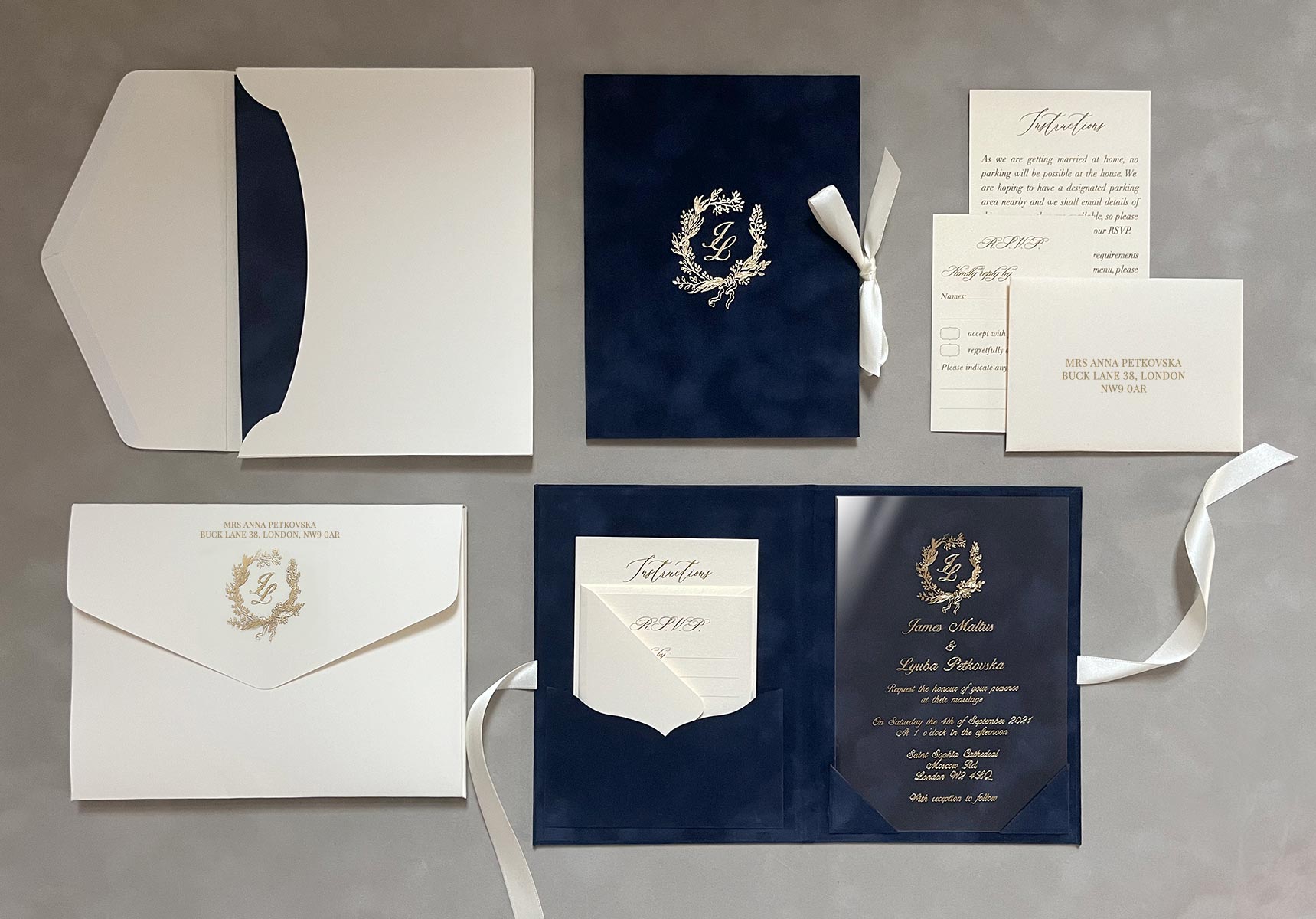 A folio invitation is a suede hardcover case with a personalised cover that can boast a foil-stamped monogram with your initials. An invitation wording is placed in one side of this case, having special side corners to fix the card in. The other side of a folio case has a handy 'pocket' providing the space for a reply card and an additional insert/inserts (if needed). A delicate satin ribbon adorns the folio and keeps it closed.
Invitation features a foil pressed wording. Being a core of your wedding invite, invitation informs the main details of the upcoming event: the hosting party, the couple's names, date and time of the wedding, the location of the wedding ceremony, as well as the location of the reception to follow/the venue name, even RSVP request can be mentioned. This card could be made from the design cardstock or clear acrylic.
A response card with its envelope is a practical tool for getting the feedback from your guests. With the help of a response card a guest confirms the presence at your event or politely refuses to attend: both options are provided. Besides, a reply card may allow for specifying your quest's dietary requirements and the number of persons attending the ceremony. The response cards will help you to gather and analyze necessary information that is important for successful wedding planning. To make the replying easier, you can opt for printing a return address on the RSVP envelopes.
An extra insert features any significant additional details having to do with your celebration. Most often, an extra insert bears the following information: menu choice, local accommodation, directions to/from the venue and suitable transport, map and wedding gifts info, even romantic poems! An extra info card/cards are inserted in the shaped 'pocket' along with a response card. Your guests will definitely appreciate this format of the invitation, designed for keeping all pieces of wedding invitation suite together for their convenience.
An invitation envelope perfectly complements the folio wedding invitation suite. The flap of the envelope could be foil pressed with a wedding monogram.
The velvet folio wedding invitation suite is a signature unit, the unparalleled beauty and quality of which will wow your guests.