Posted by Polina Perri on 29th Sep 2017
Thank you (1)
Thank you for sharing
our special day with us
and making it so special.
We had an amazing day
and are now looking forward
to have many years together
as husband and wife.

Love and best wishes
Alice and Gordon
Thank you (2)
We're so happy
that you were able to share
the celebration of our wedding and
we thank you for everything

With Love,
Alice and Gordon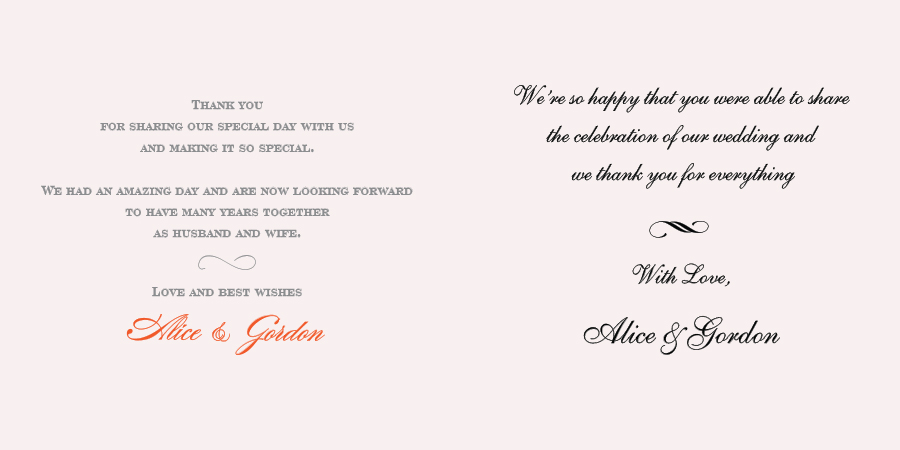 Thank you (3)

Alice
You were wonderful throughout,
from choosing everything
from the dress to the rings and
calming my nerves and shaking legs.
I felt a lot stronger and decisive
with you close by my side,
every step of the way.
I don't know how
I would have managed without you!
Thanks to the best
daughter and bridesmaid. xx
Gordon
The photos are amazing!
They represent a fabulous record of our day which we can relive again and again.
We can't thank you enough for capturing the beauty of our day in photos.
Thank you both for the photo album, it was a most thoughtful gift.
Love
Mum & Daddy Steve xx
Thank you (4)
Alice & Gordon

Thank you making
our wedding extra special.
With your meaningful gift,
Warm thoughts and prayers.

Sincerest thanks
Mr & Mrs Reid xx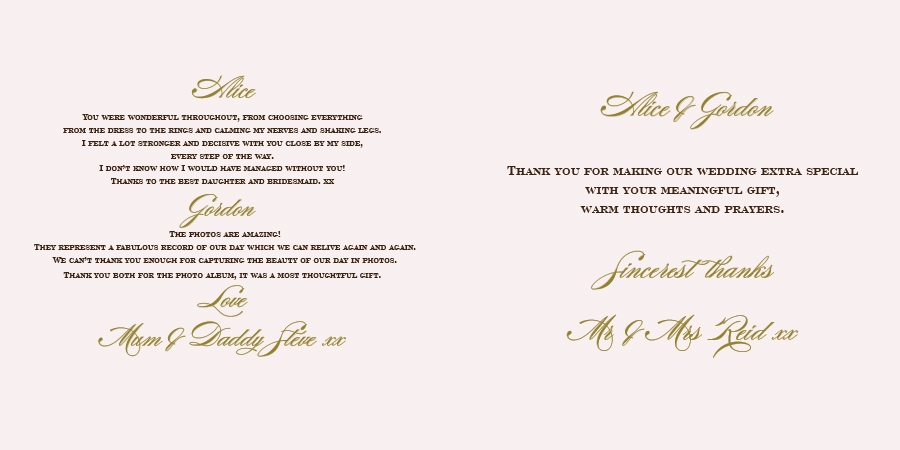 Thank you (5)

Thank you for joining us
as we begin our new life together.
Your generosity and thoughtfulness
are very much appreciated.

Alice and Gordon
Thank you (6)
Courtney and I are truly blessed with
such wonderful family
and friends like yourselves.

Thank you for your gift and presence
on our wedding day.

Alice and Gordon
Thank you (7)

A loving note can barely say
all we felt that magic day.
A heartfelt thanks is sent to you
for your thoughtful gift and wishes, too.

Jan and Jana
Thank you (8)

One thank you for the gift,
and another for the thought.
A dozen thank yous couldn't
tell you all the happiness they brought

With love always,
Alice and Gordon

To relive our wedding day visit:
photos.wedding-photographers.co/clw1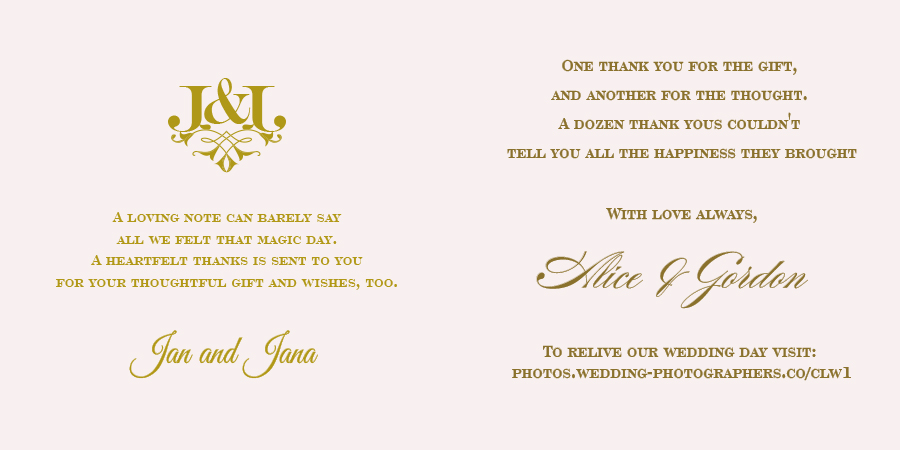 Thank you (9)

Words cannot express how fortunate we are
to have such wonderful family
and friends in our lives.
Your presence made the day complete for us.
We are honoured that you had travelled
from near and far to celebrate with us
and shared in our joy.

We sincerely appreciate the generous gift
you have given.
Thank you.
Thank you (10)

Thank You

For sharing our Special Day and
Helping to make so memorable,
Your Gifts, Cards and Messages
Are Very Appreciated.
We hope you enjoyed as much as we did.

All our LOVE
Alice and Gordon
Thank you (11)

Thank you so much for attending our wedding.
It was such a delight to see you.
Your generosity and thoughtfulness
were very much appreciated.
We wanted to take a moment to send you
the warmest of wishes and let you know
how happy we were to see you there.
We hope that you had as much fun at our wedding
as we did.

Thank you for sharing in our joy.
Love and best wishes
Alice and Gordon
Thank you (12)

Dear Family & Friends
It means the world to have you here

THANK YOU

For the Support, Encouragement,
Love & Laughter
You have Contributed to Our Lives
you are our teachers,
very best friends, guedes &
Our Favourite People in the World.
We hope you enjoy today
Love Nicole & Pete